How do I sign my own document?
---
Sometimes, you just want to sign a document yourself and send it to others.
Step 1: Go to the Home view, and click "Add Documents"
Step 2: Upload your document by clicking "Open file" or via drag and drop
Step 3: In the Add Recipients view, enter your own e-mail address

Step 4: In the Add Fields view, click and drag a Sign Block (aka a signature field) to place it on the document. Then, click "Setting Done" in the top navigation bar
Step 5: Keep the default document name or change it, and click "SIGN BY ME" to sign your name
---
How to turn on my camera to video record my signing process?
---
To turn on your camera, you need to enable it in your device's settings. For example, if you're using Windows PC, first go to your computer's Settings, click on Privacy and choose Camera to allow apps to access your camera.    
---
How do others sign a document sent by me?
---
With SelfieSign, getting signatures on a document is quick and easy. Step 1: Create a new document by uploading it from your local computer ​ 
  Step 2: Specify those who need to sign your document or provide information ​ 
 
Step 3: For each recipient, add fields to your document to get signatures and other information such as title and date, then click Done  
  Step 4: Keep the default document name or you can change it, then click SEND.  
 
Note: If you are one of the signers, after you send the document, you can open it from the Manage Documents view to sign it.    
---
Do I need to have a SelfieSign account to sign the document?
---
No, you do not need an account to sign documents in SelfieSign. You can easily sign a document after clicking a link sent to you. Once the document has been signed by all signers, a final PDF file will be sent to your inbox.    
---
Can I refuse to sign a document?
---
You are not allowed to refuse to sign a document at the moment.
It is on our list of features to be added. Recipients will be able to reject a document, while senders can filter by the Rejected status to view all documents that have been refused at a glance.
---
How do I access the SelfieSign documents I signed?
---
If you already have a SelfieSign account when signing the documents, go to https://selfiesign.me to log in your account.   Next, go to "Manage Documents", where you can see all of your documents and then filter by status Signed to see those that've been signed.  
 
Note: If you did NOT have a SelfieSign account when signing the documents, go to your inbox to access the final signed documents we've sent you.    
---
How do I download all the documents I've signed?
---
In the "Manage Documents" view, click the arrow of the VIEW button of the document you want to download, and select Download PDF or Download SVS.
A SVS file is a compressed package which can be opened with WinRAR. It consists of the recipients' signatures, original PDF document, final signed PDF document and more.
---
Can I save my signature for later use?
---
This feature is currently not available.
One of the benefits of SelfieSign is that it will record the signing process every time you sign a document.
By doing so, we ensure every document is signed by the person intended, and that the recorded video serves as court-admissible evidence in case of dispute.    
---
How do I know who sent me the documents?
---
We currently do not show the names of those who sent you the documents within your SelfieSign account. It is a new feature we are considering.    
---
Can I edit an existing signature?
---
If you made a mistake signing or filling out a document, your signature or information cannot be corrected.
You would need to contact the sender so he or she can void the document, and resend it.    
---
---
我要如何簽署我的文件?
---
有時候,您只想自己簽署一份文件,並將寄送給他人。   步驟1:點進「主畫面」頁面後,點選"新增文件"  
  步驟2:點選"選擇檔案"上傳文件或直接拖曳該文件檔案  
  步驟3:在「新增文件」頁面,輸入您自己的電子信箱  
  步驟4:接下來在「新增欄位」的頁面,將"簽名區塊"(簽名欄位)拖曳至文件,並點選上方的"設定完成"  
  步驟5:保留或更改文件名稱後,點選"由我簽署"來簽署您的名字  
---
我要如何開啟裝置的相機以錄製我簽署的過程?
---
您需要允許相機存取SelfieSign應用程式,才可錄製您的簽署過程。
舉例來說,如果您使用的是WIndows作業系統,請選取「開始」按鈕,然後選取「設定」>「隱私權」>「相機」,再開啟「允許應用程式存取您的相機」。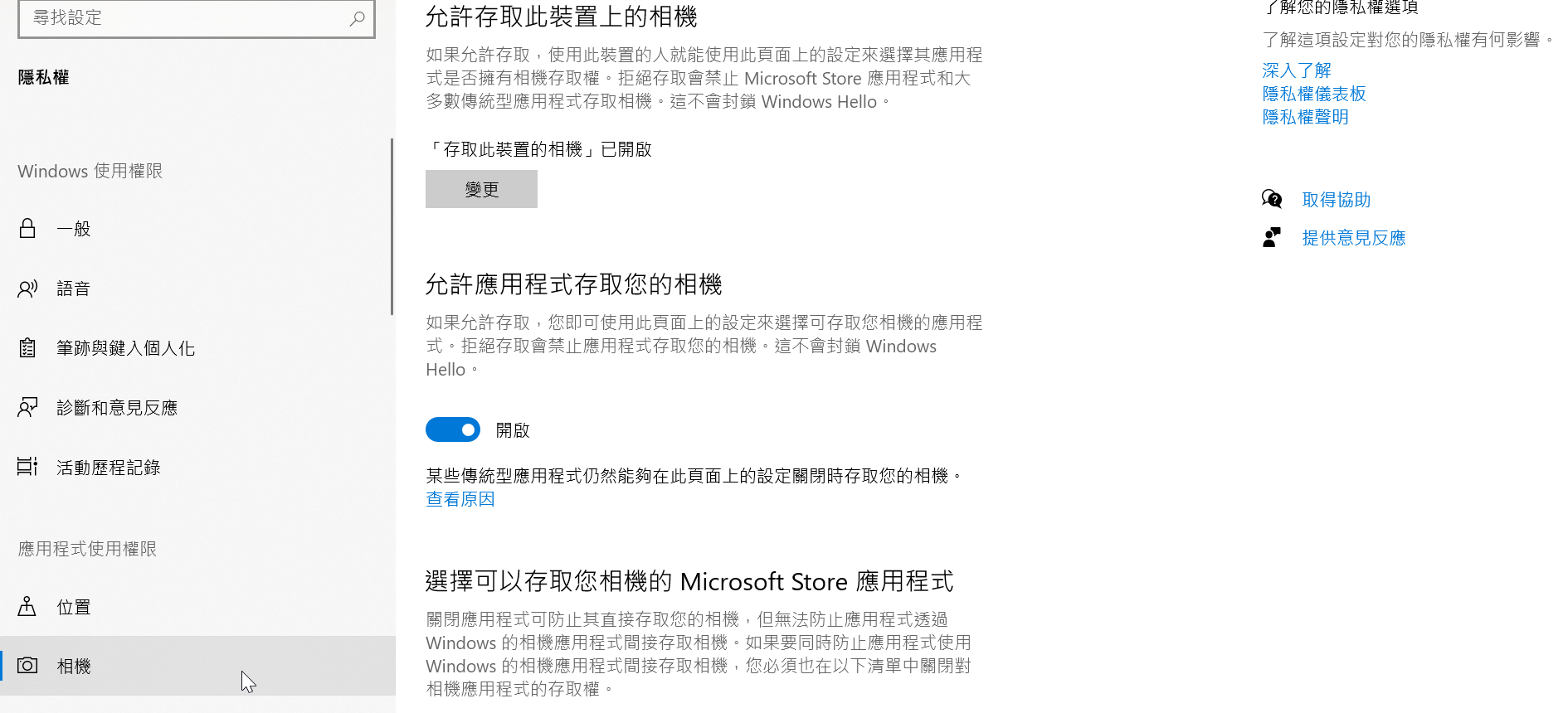 ---
他人要如何簽署我寄出的文件?
---
透過SelfieSign,您可快速且輕鬆取得他人的簽名。
 
步驟1:上傳您電腦的文件檔案,來建立一個新的文件
 
 
步驟2:輸入所有簽署人的電子信箱  
  步驟3:點選上方的每位簽署人後,從右側的欄位增加您需要該簽署人簽名及填寫的各個欄位,並點選上方的"設定完成"
 
  步驟4:保留或更改預設的文件名稱後,點選"寄出"
 
  備註:若您是收件人之一,在您寄出文件後,您可在「文件管理」頁面開啟該文件進行簽署。    
---
我需要SelfieSign帳號簽署文件嗎?
---
您不需要帳號即可在SelfieSign簽署文件。
您在點選寄給您的連結後,便可直接在文件上進行簽署。當所有簽署人都簽名後,我們會將最終的PDF檔寄至您的信箱。    
---
我可以拒絕簽署文件嗎?
---
您目前無法拒絕簽署文件。
這是我們未來會增加的功能之一,收件人將可拒絕簽署文件,而寄件人將可透過選取「拒絕」狀態,查看所有被拒絕簽署的文件。
---
我要如何讀取我已簽署的文件?
---
若您已有SelfieSign帳號,點進 https://selfiesign.me 先登入您的帳號。
 
接下來,點進「管理文件」後,您可透過"查詢"瀏覽您所有已簽署的文件。
 
  若您尚未註冊SelfieSign帳號,您可進去您的信箱讀取我們寄給您的所有已簽署文件。    
---
我要如何下載我已簽署的所有文件?
---
在「管理文件」頁面,點選文件的"檢視"按鈕箭頭後,選擇"下載PDF檔案"或"下載SVS檔案"。
 
  SVS檔案是一個可用WinRAR開啟的壓縮檔,裡面包含您文件的原始PDF檔案、完成簽署的PDF檔案、收件人的簽名、他們簽署過程的影音紀錄等。  
---
我可以儲存我的簽名作為下次使用嗎?
---
我們目前沒有此項功能。
SelfieSign的益處之一是,您每次簽名時,我們都會以影像紀錄您的簽署過程。
這樣一來,我們可確保您每份文件均由簽署人本人親簽,且萬一發生爭議時,其影像紀錄可作為法庭出示證據。    
---
我要如何知道文件是誰寄給我的?
---
我們目前沒有在您的SelfieSign帳戶裡顯示您的文件的寄件者姓名。我們會考慮增加該新功能。    
---
我可以修改過去已簽署的簽名嗎?
---
如果您發現您在簽名或填寫文件時出了錯,您無法做任何修正。
您可聯絡文件的寄件人廢除該文件,並重新寄送。    
---
---