How does SelfieSign charge its users?
---
We charge our users by the subscription plan they choose. Users can choose a Personal, Standard or Business subscription plan and pay either monthly or annually. For more details on our pricing plans, check out our Pricing page.  
---
What payment methods can I choose?
---
For now, only credit card payment is available. We accept all major credit cards including Visa, MasterCard and American Express via secure online ordering for your protection.  
---
Do the people I send documents to need to pay anything?
---
No, they do not need to pay, or register a SelfieSign account to sign documents. Once your recipients sign a document, we will email the final PDF file to all of the signers.  
---
Will my monthly or annually subscription plan automatically renew?
---
Currently, you need to manually renew your monthly or annual subscription plan. We will send an email reminder to you, 7 days and 24 hours prior to the expiry date of your current monthly plan, and also 28 days and 14 days if you subscribed annually, to avoid interruption in using SelfieSign services.  
---
How do I update my billing information?
---
SelfieSign does not keep or save your billing information. You need to enter your billing information again when you renew your subscription plan.  
---
Where can I find my billing history?
---
Click your profile photo in the upper-right of the screen, and select My Account.
You will see details of your billing history and your current plan's usage.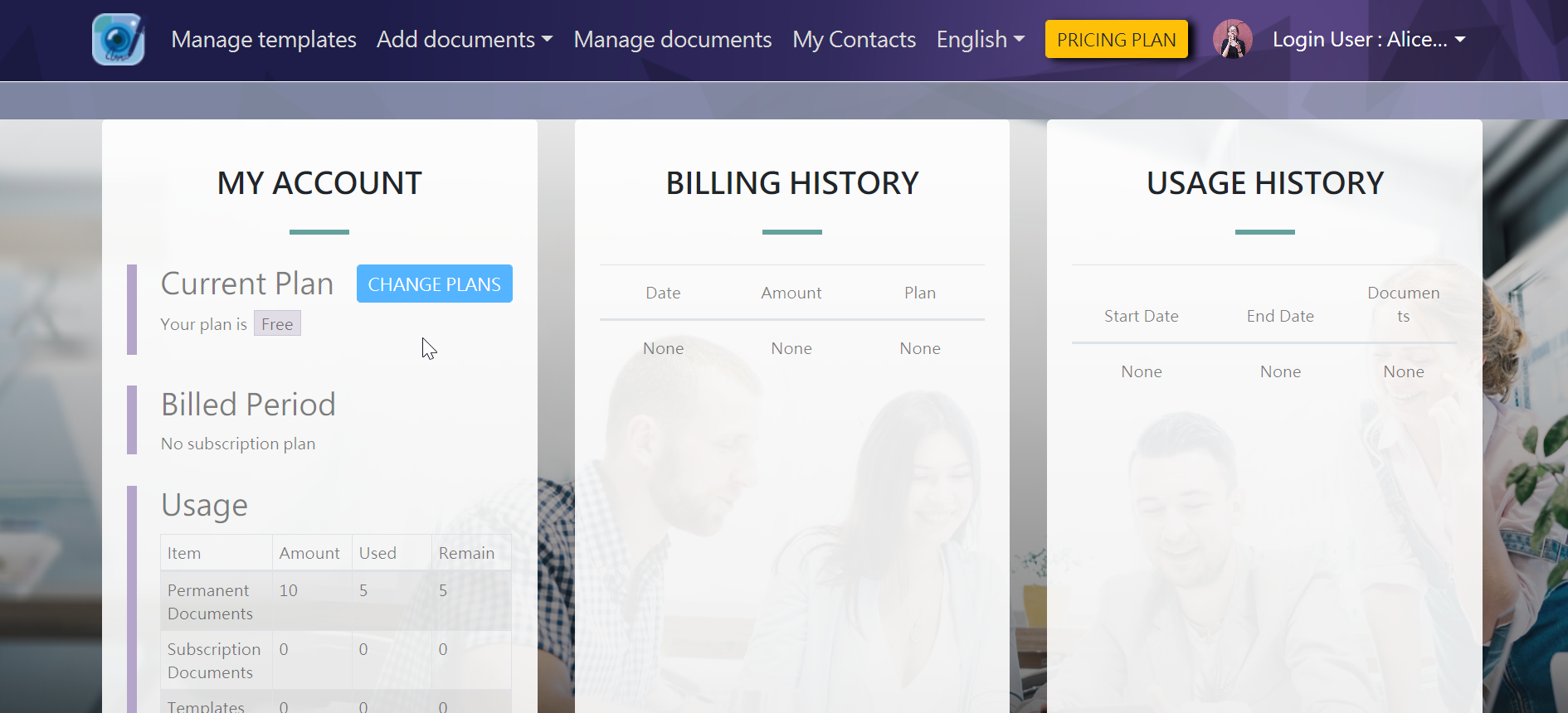 ---
Where can I download my invoices?
---
Your invoices are not available for download in your SelfieSign account. Please contact us at support@selfiesign.co and we will send them to you.  
---
How do I change my SelfieSign plan?
---
You can change your SelfieSign plan any time throughout your membership. Step 1: Log in on https://selfiesign.me, and go to PRICING PLAN at the top. You will see all available plans and pricing.
Step 2: Choose your desired plan, and then click Select

A plan upgrade will take effect on your next billing date, and you will be charged the new price on your next billing date. The same goes for a plan downgrade.

Note: When you change your subscription plan, such change will take effect at the end of your then-current subscription term.  
---
What happens to my documents if I change plans?
---
Your documents, both sent and signed, will be kept in your SelfieSign account even if you downgrade your plan. What will be affected is the number of documents you can send each month, and the Add Template feature will become unavailable if you downgrade to a free plan.  
---
How do I cancel my subscription?
---
Your purchased plan will automatically downgrade to the Free plan if you wish not to renew. In special cases, should you want to cancel your subscription, you can contact us at support@selfiesign.co.
Once your cancellation is effective, your account will be preserved but will lose certain features and functionalities associated with the subscribed plan.  
---
If I cancel my subscription, will I get a refund?
---
Per our Terms and Conditions, your payments are non-refundable and non-creditable.
Once you cancel your subscription, you're able to continue use to the end of your current billing cycle. After this your account will automatically downgrade to the Free plan.
Should you have any concerns, contact us at support@selfiesign.co.  
---
---
SelfieSign如何向使用者收費?
---
我們會根據使用者所選的訂閱方案進行收費。 使用者可選擇月繳或是年繳的個人方案、標準方案或商業方案。 您可點進我們的 價格頁面查看更多方案資訊。    
---
我可以選擇什麼付費方式?
---
我們目前僅接受信用卡付款。 我們接受所有主要信用卡,包括Visa、MasterCard及美國運通卡(American Express)。    
---
我文件的簽署人需要付費才可簽名嗎?
---
他們不需要付費,或是註冊SelfieSign帳號,即可簽署文件。 當您文件全部的收件人簽署完畢後,我們會將最終的PDF檔寄給所有收件人。    
---
我的月繳或年繳訂閱方案會自動續約嗎?
---
我們將在您當前月繳方案到期日的 前7天和24小時,或是年繳方案到期日的前 28天、14天、7天和24小時,以電子郵件提醒您續約,避免SelfieSign服務中斷。    
---
我要如何更新我的付款資訊?
---
SelfieSign不會保存您的付款資訊。每當您續訂您的訂閱方案時,您需要再次輸入您的付款資訊。    
---
我可以在哪裡查看我的付款紀錄?
---
點選畫面右上角您的大頭照,然後選擇"我的帳戶"
 
  您會看到您的會員方案、使用量、帳單紀錄等資訊。  
---
我要如何更改我的SelfieSign訂閱方案?
---
您可隨時更改您的SelfieSign會員方案。
 
步驟1:登入 https://selfiesign.me,然後點選上方的"會員方案",您會看到所有的方案與價格  
  步驟2:決定您欲使用的方案,並點選"選取"  
 
您選取的會員方案,將於下一個結算日生效,您也將在下一個結算日開始支付新的方案費用。方案降級亦是如此。
 
備註:當您更改會員方案時,此方案將在您目前的方案結束後生效。      
---
如果我更換方案,我的文件還會在嗎?
---
當您更換訂閱方案,即使是降級,我們仍會保存您所有已寄送和簽署的文件。
您唯一會受影響的地方是每月可寄送的文件數量,且若您降至免費方案,您將不可再使用「新增範本」這項功能。    
---
我要如何取消訂閱?
---
若您不想續訂方案,您的當前訂閱方案到期後,會自動降級至免費方案。在特殊情況下,如果您想取消訂閱,您可透過 support@selfiesign.co 與我們聯絡。
您的方案一旦取消,我們會保留您的帳號,但您將無法繼續使用原本訂閱方案所包含的某些特定功能。    
---
---